Location: Learning Success Center, room 113 (first floor). View map
Phone: 313.845.9618
Email: careers@hfcc.edu
Hours of Operation
Fall and Winter Semester
Monday–Friday: 8 a.m.–4:30 p.m. with extended office hours on Tuesdays until 6:30 p.m.
Spring and Summer Semester
Monday–Thursday 8 a.m.–6:30 p.m. Tuesdays are walk-in days; feel free to drop by at any time throughout the day and meet briefly with a member of the Career Services Office staff.
Staff Members
Chad Austin
Career Services Officer
Since 2009, Chad has been the Career Services Officer at HFC. Chad has an undergraduate degree in English (Secondary Education) from Central Michigan University (CMU) in Mt. Pleasant and a graduate degree in Student Affairs Administration from Michigan State University (MSU). Chad has worked at a number of schools throughout the Midwest.
Chad can help you with job search documents, interviewing, strategies for turning your degree into employment, planning to get the most (professionally) out of your time at HFC, and so much more. Chad specializes in résumé updates and modifications, and can help you best prepare for a job. Chad meets with students whenever the Career Services Office is open. To schedule a time, call the office, or drop by on most Tuesdays for walk-in assistance.
Joyce Hovermale
Career Services Job Developer
Joyce came to HFC in January of 2010. She has an undergraduate degree in Human Resources and a minor in Business Administration from the University of Wisconsin-Eau Claire. She has more than 15 years of experience in various HR positions with SPX Service Solutions and SEND International.
Joyce enjoys meeting with students to help them understand how to "market themselves" to employers. Even if students have no work experience or job search experience, she can still help them get started. Joyce also reaches out to employers to assist them in knowing the best way to connect with HFC students. Joyce is available most Mondays, Tuesdays, and Thursdays to meet with students or employers. She can be reached at jahovermale@hfcc.edu
Kyrsten Rue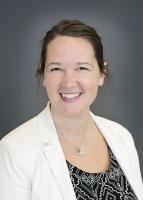 Cooperative Education Officer
Kyrsten joined the HFC Career Services team in August of 2013. She has an undergraduate degree in Psychology from The University of Michigan-Dearborn and a Master of Education with an emphasis in Educational Psychology from Wayne State University. She has 7+ years of experience coordinating internship & work experience programs.
Kyrsten thrives on finding opportunities for students to gain meaningful work experiences that will allow for hands-on exploration of their career goals. She enjoys maintaining open lines of communication between students, faculty, and employers. Kyrsten finds assisting students with applications, résumés, interviewing skills, and marketing skills to help them transition into successful work placements extremely rewarding. She is available to meet with students during regular office hours. To schedule a time to meet with her, feel free to call the office or stop by any Tuesday for a walk-in appointment.
Kimberly Kaier
Career Services Department Secretary
Kim is currently the secretary for the Office of Career Services. She has worked for HFC for more than 15 years, having worked in many offices throughout the College where she has gained insight and knowledge of the College's processes and procedures. Additionally, she has worked as a team member of the HFC Community Service Committee and is currently a member of the Staff Council. She earned her associate's degree in General Studies at Schoolcraft College in Livonia, MI and is currently working on her undergraduate degree in Human Resource Management.