Fall 2022
The Career Services Officer team is here to help you out! Our direct email addresses are below. We are open M-F 8:00 am- 4:30 pm. We are in person (on site) M-Th and virtual on Fridays
Chad Austin--Career Services Officer ctaustin@hfcc.edu
Kayla Walsh--Department Secretary kwalsh2@hfcc.edu
Jessica Miller--Career Coach-Co-op jfmiller1@hfcc.edu
Also feel free to click this link Open Zoom Office Hours to access the open Zoom Office Hours which run 9:00am - 11:00 am and 1:00pm - 3:00pm during the work week!
Location: A Building, room 113 (first floor). View map
Phone: 313.845.9618
Email: careers@hfcc.edu
Staff Members
Chad Austin
Career Services Officer
Since 2009, Chad has been the Career Services Officer at HFC. Chad has an undergraduate degree in English (Secondary Education) from Central Michigan University (CMU) in Mt. Pleasant and a graduate degree in Student Affairs Administration from Michigan State University (MSU). Chad has worked at a number of schools throughout the Midwest.
Chad can help you with job search documents, interviewing, strategies for turning your degree into employment, planning to get the most (professionally) out of your time at HFC, and so much more. Chad specializes in résumé updates and modifications, and can help you best prepare for a job. Chad meets with students whenever the Career Services Office is open. To schedule a time, call the office, or drop by open Zoom hours throughout the week!
Kayla Walsh
Department Secretary
Kayla is the current Department Secretary for the HFC Career Services Office. She is a recent graduate of HFC earning her Associate Degree in General Business. She is planning on continuing her education at Wayne State University. She started working at Henry Ford College for over three years in different offices, first as a work-study student and then as a co-op student, giving her knowledge and insight of the College.
Jessica Miller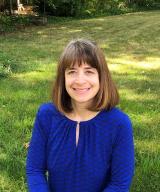 Career Coach- Cooperative Education Focus
Jessica started in April 2018 at HFC. Jessica has over 19 years of experience working in higher education settings in career services departments developing employer relations, organizing career events and placing students in full time positions as well as internships and cooperative education placements. Jessica has her Master of Arts degree in Guidance and Counseling from Eastern Michigan University and a Bachelor of Arts in English with minors in Music, Theatre and Journalism from Michigan State University. Jessica can be contacted at jfmiller1@hfcc.edu.